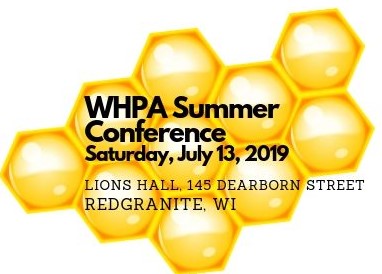 Join WHPA on Saturday, July 13, 2019 for the annual Summer Conference
Lions Hall, 145 Dearborn Street in Redgranite, WI
Registration 8:30am, $20 includes catered lunch. No pre-registration necessary.
Keynote Speaker, University of Minnesota's Bee Squad, Brooke Sommerfeldt, will give an update on mite fighting, bee breeding, and pollinator habitat efforts that are under the direction of Dr. Marla Spivak at the UMN Bee Lab.  Additionally, Brooke will share what the Bee Squad is up to and how they are using their various programs to promote honey bee health.
Beekeeper Q & A Panel
Additional speakers: Tim Wilbanks, Doug Hauke
WI Bee Inspector Report
American Honey Queen Hannah Sjostrom & WI Honey Queen Sydnie Paulsrud
Door Prizes and much more!