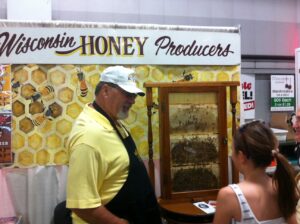 After retiring as vice president of Manufacturing for the Waupaca Foundry, Keith Penney took up beekeeping.  He would agree that it has changed his life for the better as he discovered a love for bees and mentoring. Penney's work in the WHPA has been as a contributor behind the scenes, organizing District meetings, coordinating events such as Honey Sunday, and growing beekeepers from the ground up through mentorship.
Penney has been an active member in the Waupaca County Beekeepers for over a decade serving as vice president, and he has been the "face" of beekeeping in Waupaca County. When many folks in the region meet a beekeeper, they ask, "Do you know Keith Penney?"  He goes way beyond what is expected to mentor and support new beekeepers.  He travels many miles every year answering their questions and he never wants to see a beekeeper or bee colony fail. Keith is a modest beekeeper.  He never assumes he is right and is always trying to learn from others.  In spite of this modesty, he is firm with new beekeepers who fail to learn the basics, who don't do mite counts and don't treat properly.  This is a reflection of him being a true beekeeper.  He cares about the bees.
During his 15+ years of beekeeping, Penney has been an annual fixture at the WHPA State Fair honey booth.  After working at the State Fair, he rides home silently – in the back seat – because he has lost his voice from talking bees.  Penney is a member of the WHPA who remains largely out of the public eye, attending conventions quietly, listening, and learning. He loves talking bees, educating others about the honey and beekeeping industry and promoting the WHPA at a grass roots level.  Congratulations Keith!