2019 Beekeeper of the Year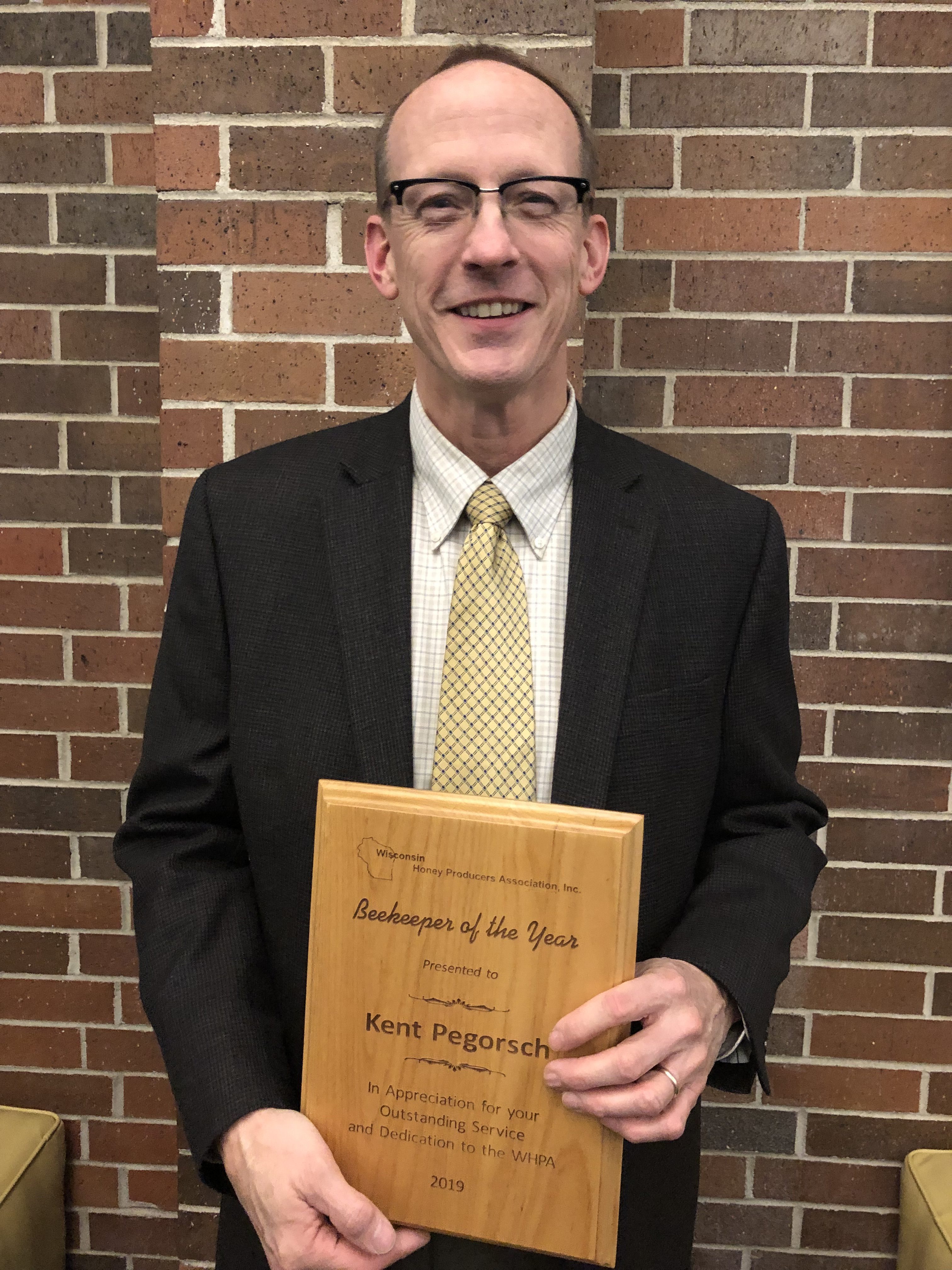 On November 2 Kent Pegorsch was honored as WHPA's 2019 Beekeeper of the Year at the annual Fall Convention in Fond du Lac, WI. Kent is the current WHPA President and also serves as a Director for the American Beekeeping Federation. He owns and operates Dancing Bear Apiary in Waupaca, WI and is an active member of the Waupaca County Beekeepers. Kent started beekeeping back in the mid-1970s and it quickly became a passion. In Wisconsin, he is extremely active in promoting the WHPA, as well as honey and beekeeping in general through presentations at local meetings, television, radio and print interviews. He is a great advocate with our state legislators, working for the interests of the WHPA and not shying away from complicated issues that are important to Wisconsin beekeepers.
Internally, he has worked to make WHPA committees active, strong, and engaged. He led an update of the Constitution & By-Laws to make sure the organization continues to be dynamic and relevant in the years to come. Kent has also has traveled to Nicaragua several times with the Nicaragua Bee Project to promote and teach beekeeping as an economic development tool to improve the lives of fellow beekeepers. In everything he does he is thorough, fair and balanced, always looking first to the interests of the WHPA and the diverse membership. Congratulations Kent!
Pioneer Award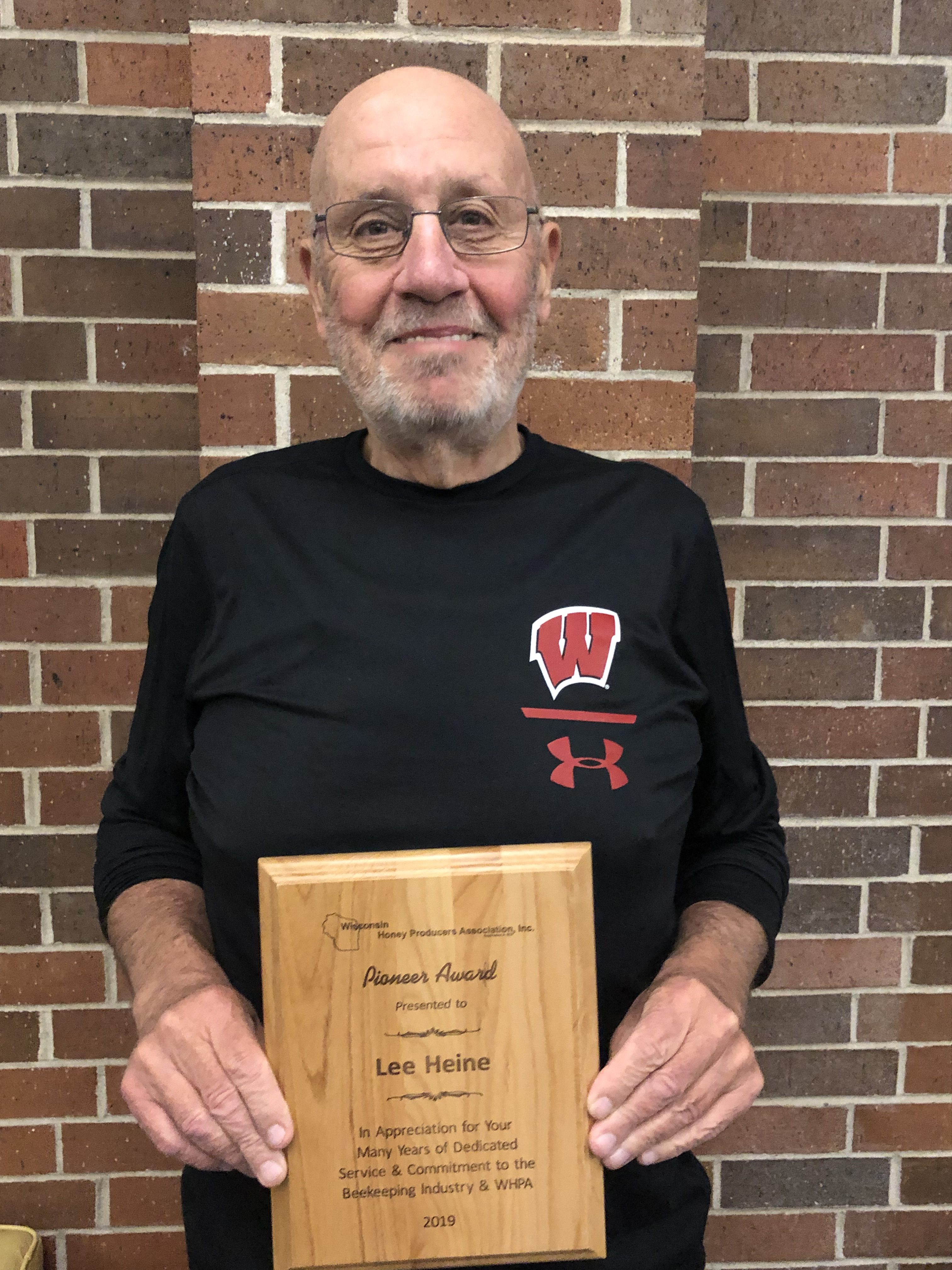 Lee Heine of Hillsboro, WI was honored with the WHPA Pioneer Award on November 2 in Fond du Lac, WI at the annual WHPA Fall Convention. The Pioneer Award is a lifetime achievement recognition of members who have made a long lasting, significant impact on the beekeeping industry and have continued to provide service over an extended period of time.
Through many years in the industry, Lee Heine has always been passionate about expanding WHPA membership and ensuring that many people – from experienced, seasoned members to younger members – be involved, not only to strengthen the organization, but to ensure that beekeepers are well informed about issues, proper beekeeping practices, and how they affect the industry, regardless of the size of their operation.  Throughout his career in the beekeeping industry, Heine has served as membership co-chair of the American Beekeeping Federation, chairman of the National Honey Board, manager of Big Island Queens, and branch manager at Dadant & Sons, Inc. Heine served WHPA for 10 years as vice president, president, and past president.  Even after holding office positions, Heine continued his work by chairing numerous committees over the last 20 years, serving as a District chair and on the Executive Committee, and spearheading beekeeping mentoring initiatives.  He continues to serve as an important part of the WHPA's legislative committee, connecting with elected leaders to further legislation that helps commercial and small scale beekeepers alike.
Through his work with the WHPA, ABF, the National Honey Board, and his package bee business, Heine formed countless friendships and connections, and we have all benefited from these relationships.  He worked to make the annual WHPA Convention one of the premier state conventions in the nation by bringing high profile, nationally recognized speakers to Wisconsin.  He is a connector in Wisconsin beekeeping, bringing members together as new friends, and to bring even more fun and joy to WHPA conventions. Beyond our country's borders, he traveled to Nicaragua in the 1990s to help organize and reunite the country's beekeepers so they could improve their local economy and sell their honey on the foreign market. In his later years after retiring as the Dadant branch manager in Watertown, WI, he continued to be a student of beekeeping, working for Big Island Queens in Hawaii and bringing that knowledge back to Wisconsin and sharing his experiences with the WHPA.
Youth education is incredibly important to Heine.  He works to involve younger members in leadership roles in the WHPA, whether it is encouraging them to take positions as Committee chairs, District Chairs, Officer positions, involving them on speaking panels or at the annual Kids & Bees Expo, to volunteer at the State Fair or serve as a Honey Queen, giving them experience in his own business, or giving them their first package of bees.  His commitment to youth beekeepers has shaped the WHPA into a vibrant and diverse organization.  He encourages a legacy where younger members can become leaders, bringing value and voice to the state level.
Heine sees the value of hearing others' stories and helping improve beekeeping operations.  He never turns down a good conversation, a good story, a good laugh, a good beer, or a Wisconsin Badgers game.  The WHPA is truly grateful for his service, the love he continues to give the organization, and the gifts he continues to provide us. Congratulations Lee Heine!
2019 Youth Award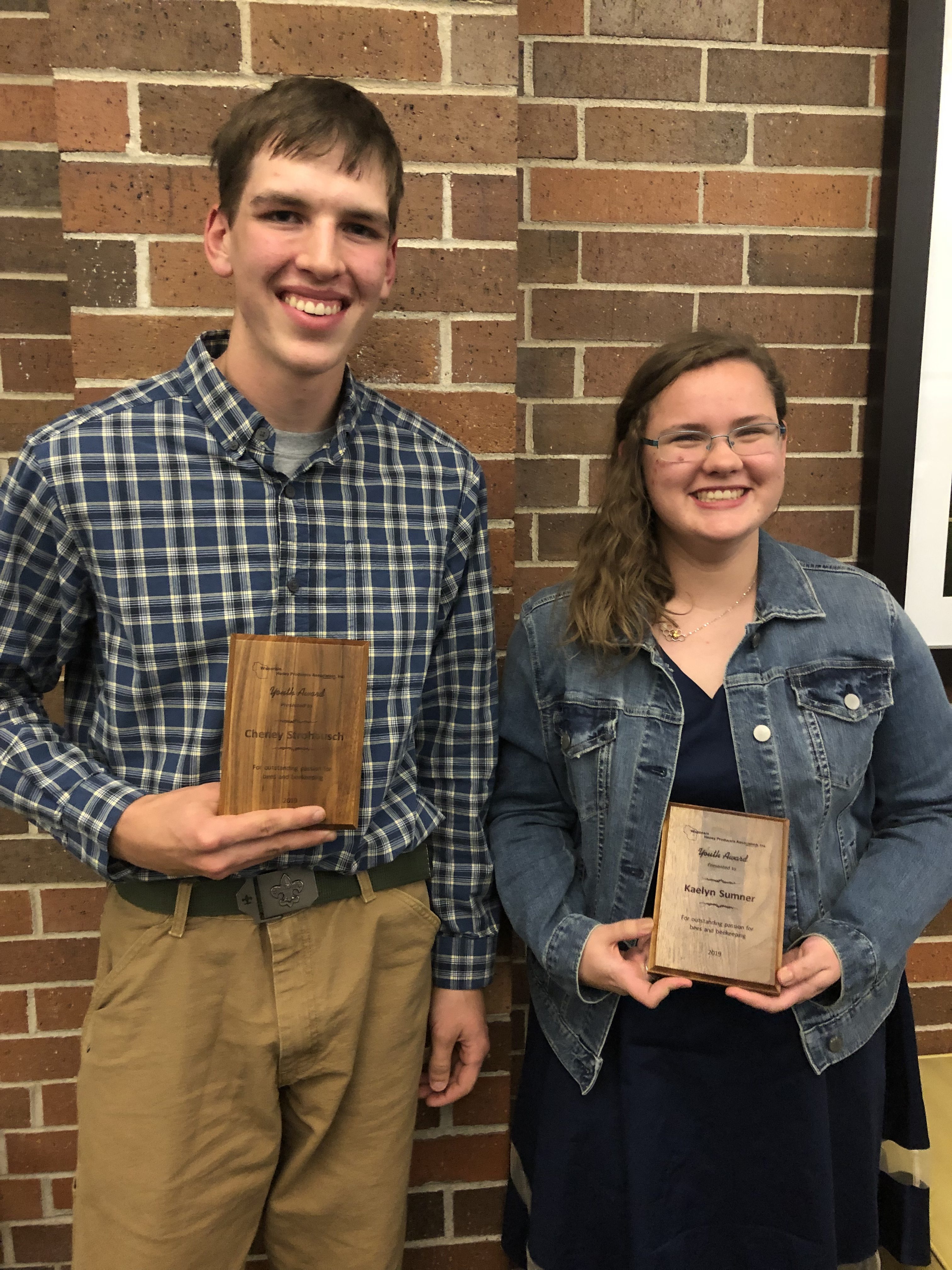 Cheney Strohbusch, of Watertown, WI is a 19 year-old beekeeper who just finished his sixth season in beekeeping. Strohbusch was recognized for his outstanding dedication since he first became interested in beekeeping and has continued to grow his operation and gain experience working with other beekeepers.
After learning that it was too late in the season to get packages of bees his first year, he started working with bees on a friend's hobby farm to get experience in beekeeping. He eventually received his first hive as a part of his payment for the work he was doing. Since that time, even despite early troubles of overwintering, he has continued to expand his business "Annie B Acres" each year.  He's learned a lot through the help of local beekeepers Tim Wilbanks of Heritage Honeybees in Sullivan and Ryan and Sarah Stern of Concord Farms during the summers. Exposure to beekeeping on a commercial scale has helped shape the way he thinks about his bees and how he runs his own business.
He sells his honey at local farmers markets and has given talks at a local school about bees and honey and has demonstrated beekeeping to his local Scout troop. He recently received the rank of Eagle Scout and used his beekeeping experience for several badges.   Congratulations Cheney!
Kaelyn Sumner of Cecil, WI has been keeping bees since she was 14, contributing her own money to what she received from several grants to start six hives. She is now 16 years old and has expanded her business to nine hives by selling honey at farmers' markets and craft fairs.
She is active in the Pulaski FFA and was one of the 12 national finalists in the Agriscience Division of Food Products and Processing with her research on glucose levels in honey. Her academic paper is also being reviewed by staff at the Minnesota Bee Lab. She was also recognized as #4 in the state for Specialty Animal Production Proficiency. She supports and gives back to the FFA out of the proceeds from her honey sales.
Besides selling honey, she has a passion for education and loves talking to the public about honeybees and honey at her markets and fairs, in addition to the 2,000+ elementary school kids she has spoken to in classroom demonstrations. Congratulations Kaelyn!
Education Award
Max Martin, one of the founding members of the Door County Beekeeping Club has dedicated countless hours providing the crucial training to get new beekeepers in his area off to a good start through mentoring and T his annual beginning beekeeping class. As interest in beekeeping continued to grow, he helped organize the club's mentoring program so experienced beekeepers could share their knowledge with those who are just beginning. He has been keeping bees in the area for almost 20 years and has earned the respect of new and seasoned beekeepers alike by his depth of knowledge and willingness to go above and beyond to help out. The Door County Beekeeping Club and the WHPA are both privileged to have him. Congratulations Max Martin!
Past WHPA Award Winners