2018 Beekeeper of the Year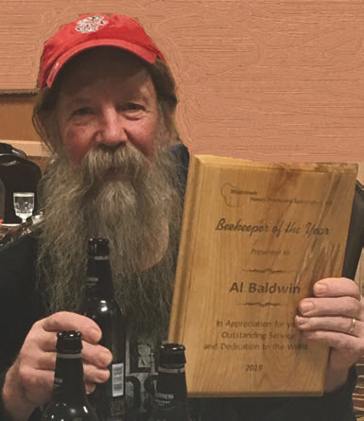 Al Baldwin was awarded Beekeeper of the Year on Saturday, November 3rd at the annual WHPA Fall Convention. Baldwin, a 4th generation beekeeper, is characterized by a quiet, sincere demeanor with a strong work ethic. A fellow beekeeper and neighbor says, "He is one of the hardest working beekeepers we know. He has always exceeded anyone else in his neighborhood and surrounding area; because he has worked harder and longer trying to get the best out of his operation." Baldwin has been an active and supporting member of the WHPA for decades. As a commercial beekeeper he has helped out on many projects, including the Youth In Beekeeping program in the Southwest District, serving on the Wisconsin Certified Honey Bill committee and testifying in front of the WI State Assembly. He has served on the Research committee and many other committees over the years. He has been a Southwest District Chair and is a member of the American Federation of Beekeepers and American Honey Producers Association. He takes great pride in his award winning honey and we are lucky to know him. Congratulations Al!
Pioneer Award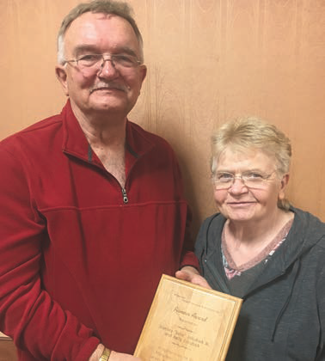 Judy & Jake Jakubek, Jr. started beekeeping in the 1970's. Since the beginning they have been involved with the Waupaca County Beekeepers and the Wisconsin Honey Producers. Jake was president of the Waupaca County Beekeepers for decades, organizing a meeting each month where experienced beekeepers could help newer beekeepers. Under his direction, Honey Sunday at Mosquito Hill Nature Center has been successful for over 30 years. Honey Sunday brings the general public and beekeepers together for a day of education on honey and beekeeping. Jake currently serves as the Treasurer of the
Waupaca County beekeepers. His history of "talking bees" at his barbershop was even the subject of a painting by Marie App that made the cover of the American Bee Journal. Judy has been by his side in the bee yard and honey house, harvesting, extracting and bottling. He always jokes that she is so particular about cleanliness. Their positive representation of honey and beekeeping should be an example to us all. Congratulations Judy and Jake Jakubek Jr!
Special Recognition Award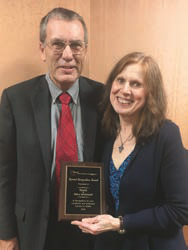 Derald & Mary Kettlewell are a couple whose commitment to the state and national Beekeeping communities have gone far beyond member expectation. Mary's management of the Wisconsin Honey Queen program has significantly benefited Wisconsin beekeepers, and the young women involved in the program
as well as the public for the education they receive from queen visits. Mary has also served numerous years on the convention committee, working behind the scenes, insuring that speakers were recruited, hotels reserved all within a sound budget. She has also been involved with making sure that the State Fair Honey Judging takes place. Her honey judging expertise has also extended to the honey competition at the American Beekeeping Federation's annual conference. Mary's financial skills and sharp pencil as chair of the Budget Committee are also appreciated. Derald has served as WHPA President and as an active past President. He has also served on the Legislative and State Fair committees. His guidance has been an asset to many within our organization while working behind the scenes. WHPA volunteers appreciate him as a "go-to" contact when we need sound advice. their commitment to the organizations that serve beekeepers has their commitment to the organizations that serve beekeepers has benefited us all. The WHPA appreciates all they do and recognize them for their consistent contribution to the membership. Congratulations Derald & Mary Kettlewell!
Appreciation Award
Jeff Budewitz is an active member in the Dodge/Jefferson Co. Beekeepers and has been an officer for 10 years in the Southeast District serving as vice president. Jeff and his family are active supporters of their county queen program and Dodge County Fair. In the WHPA he and his wife are consistent volunteers at the State Fair honey booth . Jeff has shared his significant talents as a woodworker, creating an amazing wooden display to literally shine a light on the WHPA, and fashioned a beautiful multi-level wooden stand to showcase our products. In recognition for sharing his time and talents, WHPA appreciates Jeff Budewitz. Congratulations Jeff!
Past WHPA Award Winners